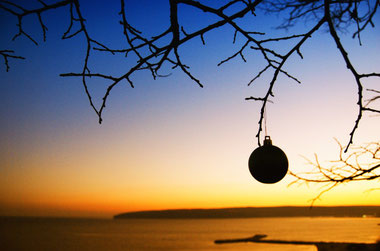 The year 2011 is ending very soon. As I look back on the year, I am amazed and feel tremendous gratitude for all the blessings that I have received on so many different levels. This has been an excellent year for sure.
Here is my list:
1. Good and stable health.
Health is wealth is a saying that I fully subscribe especially after my own wake-up call. The greatest lesson that I learn from that episode of my life is that: never take your health for granted. Treat your body well, listen to it and do not abuse it. I am please to share that my health has never been better and I have not experienced any symptoms of stroke since my surgeries.
2. Wonderful husband and Happy marriage
Despite a shaky start, we are in a very happy place in our marriage now. Each day, I thank God for the gift of a loving husband who has enriched my life and taught me important lessons in love and acceptance. This is my dream relationship, one that is based on mutual trust, respect, acceptance and love. I am definitely reaping the numerous benefits of a happy marriage.
3. Safety and Protection from harm.
Being so far away from our family of origin is difficult especially when our parents are getting on with age. It is heartbreaking when we are not able to be there for them. This year, all of us have been protected from harm and we did not suffer any major loss. 
4. The launch of Winifred & You: Flourishing Together
In my book, this is an achievement and fulfillment of a dream. It means so much that I am able to share my personal story, knowledge and expertise via my favourite channel i.e writing. A wonderful journey it has been and I am learning a great deal from this endeavor. I am also grateful for the support that I have received from affirming and encouraging friends. And to you, my readers; a blog is meaningless without readers so thank you for your support by coming back and spreading the words.
5. A strong network of good friends.
Relationships are so important to me and all my life I have been blessed with great friends. Without a doubt I have found my tribe, people who will stand by me in good and bad times, accept me for my strengths and weaknesses and inspire and support me in pursuing my dreams. This year we also hosted a few friends from Singapore who visited the Bay and we had a lot of fun. Thank you! 
6. Extensive traveling
We have definitely outdone ourselves this year! All in all we visited six countries (The Bahamas, Canada, Hong Kong, Peru, Singapore, Malaysia), 12 states in the U.S and more than 30 cities. Peru is one of our dream destinations and it felt so incredible when I stepped my foot at Machu Picchu, one of the New Seven Wonders of the World. Another highlight is going to Hogwarts and soaked in the world of Harry Potter, our love. Every place that we visited stirred us differently and gifted us with fond memories.
7. Good eats
Travel and good food are our two main indulgences and certainly we did plenty of that in 2011. Our most unforgettable dining experience was at Moto in Chicago. We also had the privilege of dining at Astrid & Gaston, which was so delightful. The ability to enjoy excellent food and try new cuisine is definitely one of life's greatest pleasures. Thank you to all wonderful chefs who impress us with your amazing skills.
8. Technology and Tools
The world mourned the loss of a genius in Steve Jobs earlier this year and no one can deny his unparalleled contributions to the world of technology. Useful apps have definitely enhanced my life and enabled me to remain connected with good  friends and family back home. There is also a useful app for gratitude list!
9. Personal Development and Growth
Ongoing growth is of paramount importance and I am thankful that there are numerous opportunities available to me. I have successfully completed the Level 1 of Gottman Method Therapy, a course with Stanford University in Marketing and Social Media Strategy in addition to several webinars with distinguished authors like Gretchen Rubin and Heidi Halverson, just to name a few.
10. Inspiring authors, bloggers and writers.
I love knowledge and learning. Thus my favourite pastime is to read. Very often books become my mentors and best friends as I turn to them for ideas, inspirations and motivation. Having taken the step to blog seriously myself, I appreciate the difficulties and challenges that writers face in sharing their voices as well as the joy in being able to present their unique perspectives. Here are my top five books in 2011. 
11. Remember the dog that never bark.
I learn this idea from an enlightening post that proposes we need to be grateful for things that did not happen. For example, a house that is not broken into or a crisis that is averted in time. California is prone to earthquake and we are very grateful that we have not experienced a major one in the three years that we have been here. We spend a significant amount of time traveling and have been protected from mishaps. In a recent trip, we encountered a severe crisis, which was addressed in the nick of time before anything more disastrous happened. Yes, I am thankful for the dog that never bark.
12. Important lessons and self-discovery.
What a great and fruitful year it has been in terms of self-discovery and character-building. Some of the key lessons that I have learned include:
Self-acceptance
Letting go and surrender
Trust in God
Patience and perseverance.
Friendship and relationship with others.
Compassion
Embracing failure
Mindfulness
Allowing others to take responsibility and learn their lessons at their own time.
I certainly hope that 2011 has been wonderful to you as well. Thank you, 2011 for all the cherished memories, opportunities and blessings. I look forward to 2012 and come what may, we will be ready for you.
Food for thought: What would be on your gratitude list this year?
Suggested exercise: This is a great exercise to bring to mind all the good things that have happened. Share the list with a friend, significant other or child(ren) because "shared joy is a double joy; shared sorrow is half a sorrow."  If you wish, blog about it and share the link with me.
Come, let's flourish together!
P.S A shout out to new readers who came by because of this post. A warm welcome to you!