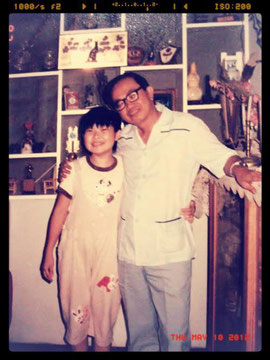 This is one of my favourite pictures of me with my father, Peter. My eleven-year-old self in this picture would never be able to imagine a life without her precious papa.
Today marks the tenth year since papa left us. His sudden death turned my world upside down and a part of me died with him that day. Even though it has been a decade, he is dearly missed and the world is just not quite the same without him.
My father taught me many important life lessons not just in words but by the way he had lived his life. Here are three of the most important lessons that I have learned from him.
1. Faith in God and life
Since young, my siblings and I were raised to believe in God and prayers. Truly it is the greatest gift that my parents have given me because by instilling and passing on their firm belief and faith, I have been able to overcome many life's challenges.
As a result of his faith in God, dad faced death with courage and he was ready to leave this world when his time beckoned. This was expressed openly to me three months before he died when he was hospitalized due to a seizure. Even though I would have very much preferred that he lived a longer life, I take tremendous comfort in knowing that he was ready.
2. His great passion for life
Dad was an active participant of life. He showed up daily for his work with strong and great work ethic. He was always the first to be at the office, ready to give his level best. His life as a civil servant was an interesting one. I am so thankful that he and I did a project together where he dictated his life story as a civil servant while I did the typing. Our effort was rewarded when the article was eventually published in a local magazine. Clearly my love for writing and sharing is inherited from him.
Other than work, dad was deeply involved in serving the community, both in the religious and secular world. Mom told me that once he took no pay leave from work for a couple of weeks because he was in-charge of a mega fundraising effort. That was the level of his dedication and passion.  
Another trait that I have come to embrace from my dad is his thoughtfulness. He spent much time thinking and introspecting as well as engaging in intellectual and political discourse. It's lovely to know that we are both thinkers.
3. A people-person who valued relationships

He was certainly the life of a party with his great sense of humour, warmth and outgoing personality. Always willing to lend a helping hand, he was generous towards others. He knew and appreciated the importance of relationships and I learned that from him at a very young age.
I left home at 18 to pursue my education in another country. It was always wonderful to chat with dad on the phone as I could hear his smile and joy through his voice that made me feel loved and cherished. I miss seeing his smile very much. 
Although his death left a deep gap in my heart, I am very grateful to learn more key lessons from the experience. He continued to teach me even on his death.
1. Grief is not "work"
I learned about grief firsthand when dad left us suddenly. As a psychologist I was well-aware of the five-stages of grief yet it did not resonate with me. What I learned instead is that grief is a messy, slow and painful process, one that involves emotional upheaval, interrupted activities and countless dark nights. Indeed, this is what the latest research in grief shows us.
It is crucial to grieve well and to do it well takes attention, courage and time. We need courage because the emotional pain can be overwhelming and it is very tempting to simply numb it. Our grief is the proof of our love, a demonstration of how deep we have allowed another person to touch us. I cried every night for close to six months after dad died. For a while, I thought the emotional pain would never cease. Yet, it was through my tears that I found the healing elixir that lubricated my broken heart. 
My experience taught me that grief is not a task or work that needs to be controlled, fixed or resolved. I am inclined to agree that we are never "finished" with grieving. I still grieve today for the loss of dad albeit with less intensity and frequency. I don't think I will ever "get over" losing him.
If you have recently or not so recently lose someone in your life, my heart goes out to you. It is not going to be easy and I wish there is a magic formula that I could offer but there is none. To cope with the pain, practice self-compassion. This article provides sensible suggestions on how you can be present to your grief. I will be more than willing to hear from you if you wish to share your experience with someone.
2. Human spirit is resilient
I read that death is not something that happens only once at the end of life. In reality, from the moment of birth we are dying everyday in all sorts of physical, emotional and spiritual ways. Death is with us when things change, end and then begin again. For example, marriage is the death of singlehood and parenthood is the death of a carefree existence and a new birth in the greatest role of all.
My old self died with dad at age 26. Through his death, a new Winifred was born; one who has greater knowledge, wisdom and resilience. I continue to die and experience rebirth as I progressively and inevitably go through adversities in life. Here is a real story.
The same year dad died, I encountered a series of misfortunes. I was involved in two vehicle accidents and my sister suffered badly in one of them. When I looked at the damage, I thanked God that both of us survived. While we were busy at the hospital caring for my sister, thieves broke into our house. Miraculously we didn't lose much in terms of material possession but I couldn't say the same about the trauma it inflicted on me which persisted for a long time. Lastly, my wallet was stolen from the office when I returned to work. All these happened within two to three weeks after dad died. My good friends awarded the title "Jobress" to me, the female version of Job.
I had no idea how I got through that horrible patch but I did. I can only attribute it to God's grace and human resilience. These experiences revealed to me the incredible and indomitable spirit of human being. I relearned this major lesson when I went through my brain bypass operations and recovery from stroke. It is true that what doesn't kill you makes you stronger.
3. Cherish the present
With the passing of dad, it hit home hard that life is unpredictable and that I need to cherish and express my affection to my loved ones and friends consistently. It is too late to honour and show filial piety when the person is gone. Elaborate funerals become meaningless if we did not honour our loved ones when they were alive. 
I also learned that death and losing someone is so difficult because I expect the person to be around forever; that i can attend to him/her at my convenience and terms. I recognize that as incredibly selfish but isn't that human nature? Rationally I know that no one lives forever but that didn't stop me from hoping.
Incidentally, Mother's Day falls on the weekend of dad's death anniversary every year. It serves as a great reminder that I need to cherish my mom who is still alive. It saddens me that I lost the opportunity to be and do so many things with dad and I am so thankful to have the chance to redeem myself with mom even though we live in different countries now. The wakeup call was a timely one and I will always remember the precious lesson to cherish the present and be grateful for what I have today and never take life for granted.
Thank you Pa, for being my wonderful father. I can't wait to be reunited with you again one day. With all my love.
Food for thought: Who would you like to share your love and appreciation today? Don't wait, do it today.
Related posts in the What I have learned: