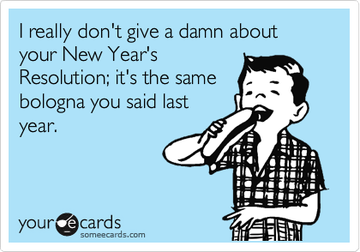 New Year's resolutions. They are almost synonymous to New Year itself since the association is so strong whether it is positive or negative. Many think that it is a joke and are feeling cynical about it as it is captured succinctly in the image here. 
I like to share with you my relationship with resolutions and what I have learned about making them over the years.
By nature I am a goal-oriented person and thus the idea of making New Year's Resolutions fits me like glove. Still I struggled with the resolutions that I have made and never quite reach the 100% success. Looking back, my thinking about it has definitely evolved and here are some of the key things that I have learned.
1. Know WHY you are making the resolutions.
In my younger years, I made New Year's resolution because it was fashionable, it felt like a good thing to do and everyone seemed to be doing it. With fragile confidence, missing the boat was unthinkable. After all, every beginning spells hope for a brighter and happier future.
I discover that this reason is not enough to sustain me for the whole year. Come February or March, the resolutions feel more like shackle, a burden that I was too proud to let go and a reminder of my failure. Yes, I get why there are so many who do not believe in New Year's resolution.

In this post, there are 6 questions that Gretchen Rubin poses before we make a resolution and they are indeed important. To that I will add, "Why am I doing this?" The answers to this question will influence your commitment, willingness and motivation to give your all (or not) in order to succeed.
When my reasons arise from a thoughtful contemplation, often I am able achieve my resolutions. For example, my stubbornness is affecting my relationship with my spouse and perpetual conflicts are not what I desire in a marriage. Thus, I resolve to accept influence, be open to suggestions and alternative perspective. Knowing the reason behind my resolution cements my commitment. Trust me, change is not easy. Neither is it natural for any human person to deal with change. Comfort zone and familiarity will always have the upper hand. 
2. They can either be specific or broad.
Most experts will tell you that your resolutions ought to be specific so that you will be able to execute everything according to your plan. In Succeed,
the author argues that two important factors that determine the likelihood of success are specificity and degree of difficulties.
When it is specific, we have a clear idea of what to expect. Otherwise how are we able to measure the outcome? I have no quarrel with this proposition. In fact I am a firm practitioner of this belief.
Yet, I also believe that there are people who might find it easier to use a certain key word or theme that captures the essence of their resolutions. For instance, 'be positive' or 'choose love'. Consequently, it is critical that you know yourself and what works for you in the long run. I use a mixture of both.
3. Getting ready is just as important as taking actions.
Many tend to overlook the value of preparation or getting ready and they launch right into actions. Being thoughtful helps you to anticipate challenges that may present themselves while you are executing your goals. 
Prepare some strategies to ensure a greater probability of success before one embarks on the big change. For example, focus on small wins and be realistic about the changes that can happen.
It is also worth remembering why you have failed to change in the past. Year in year out, you might have wanted to quit smoking because you know that it's bad for you. Part of the preparation is to be honest with yourself and understand that old habits are there because you like them and have formed a solid relationship with them. Also they usually give you pleasures even if they are bad in the long run. Thus, it is normal that you may feel ambivalent about the change.
Take time to evaluate and understand yourself. There is no need to embark on the your resolutions immediately. In fact, I read an interesting post that gives reasons as to why you should start your New Year in February.
4. Moderate your expectations
Anything worth doing is always hard, requires grit and great amount of perseverance. Moderate your expectations when you are drafting your resolutions as well as when you are executing them. Expect changes to be slow in the early days as you are still unlearning old habits as you learn new ones. I read that it takes at least 30 days to form a new habit. Thus, it serves you better when you are realistic about the desired outcomes instead of feeling frustrated and defeated when you are not seeing the results. 
5. Review your resolutions after you have written them
Why is this an important step? Because this tells you if you are being honest with yourself when you design the resolutions. Do they energize or drain you when you read the resolutions to yourself? Are you excited? Or do you feel the dread and burden? If it is the latter, most likely you have not been authentic to what you truly want or who you are. Perhaps your resolutions were driven by your social self and not your essential self.
I usually feel a surge of energy and excitement when I look at my resolutions. Often they make me feel like I can conquer anything and that feelings carry me through for several days. Subsequently, I will have to shift into a different gear and use my reasons (point 1) to keep me going.
6. You can make resolution(s) ANYTIME of the year.
This is probably the greatest lesson for me. I used to feel anxious as first of January approached especially when I had not decided on my resolutions. I had the magical thinking that if I started on a great note on the first day of the year, the rest of the days will be just as great. Not!
For some reasons, I did not set any resolutions at the start of 2011! And I only realised it when I was looking through my journal at the end of the year. Tells you how serious I was about them.
Ironically, 2011 turned out to be an excellent year for me. Yes, I did not set any resolution in January but I did when the need arose throughout the year. For instance, I resolved to support my friends by listening rather than giving advice (unless they ask specifically) maybe halfway through the year. Often this is an occupational hazard since this is my bread and butter.
What I learn is that I don't need a New Year for me to make a resolution. While it is convenient and sentimental to do so at the start of the new year, there is no rule that says "you can't make a resolution on any other day."
There is a beautiful quote that I have been hanging on to for a while. It goes: 
"Today is a brand new day with no mistakes in it yet"
I can't be certain who it is it by but I savour the promise of every new day that offers me opportunity to make a difference in my own life or the lives of others. A brand new day is a gift, and how I use it is my gift to God and others.
This new thinking certainly helps me to live more in the present and cherish each day as it should be cherished. Let us not squander the gift of a new day. Let us live in the present and moment so that come December 31st 2012, we will not repeat what we usually say, "where has all the time gone to"? because we will know.
After today, January 4th 2012 will be forever gone just like December 31st 2011. Every single day is a beginning and an end. Indeed they are continuous, Ad infinitum.
Food For Thought: Can you imagine how life will be like if we treat every new day the way we welcome New Year's Day?
Suggestions on possible "Anytime Resolution", the name of a segment that I will start in 2012 on Mondays.

Thank you for reading. As usual, if you enjoy this article please consider sharing it with your friends and family. Also, your "Like" always encourage me. You are most welcome to share your thoughts and reaction on this post. I look forward to your comments.

Come, let's flourish together!