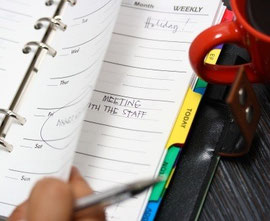 One of the common challenges of modern life is the lack of time. Have you heard the following exclamations recently?
"I wish there were more than 24 hours in a day"
"I wish there were two of me so that I can do more"
There is no denying that time is a precious commodity and our challenge is really to manage and use it for what is important to us.
Today's bite-size tip is to put in your schedule what is of consequence to you.
There is a perpetual tension between what's urgent and important in our daily lives. Unfortunately, what is urgent is often more visible and insists on our attention and action. Therefore, the important matters often take a backseat. Yet, these are what contribute to our mission, values, goals and satisfaction in life.
I find that a simple strategy that can be used to ensure that important things get done is by scheduling them in your calendar. Experts have advised couples to schedule a date night or even sex time to make sure that this key component of relationship is not neglected. You might think that it takes the surprise and spontaneity element out of it but the alternative could possibly be "out of sight, out of mind" and nothing gets done. 
I have an epic project that I've been sitting on for ages. I really want to complete it within the next couple of months and the first thing that needs to be done is to make sure that it appears on my schedule. It doesn't mean that it needs to be done in one sitting. I just need to get started and work on it regularly.
Do you have important things that you really want to do but haven't found the time to do them yet? You are not alone.
Yet, fretting is not going to get you there. My suggestion is to take a good look at your daily schedule and observe what's on it. Next, make a list of the important things that you want to do and schedule them in one by one. Refrain from being overly ambitious as you may set yourself up for failure. Always start small and do it often.
Here's a good article on ways to stay focused on the important things.
What do you think of this tip? Will you be willing to try it? Do you already practise it? I'd love to hear your experience.
Please click 'Like' or 'Share' if you have enjoyed this post. Word of mouth is the best. Always.