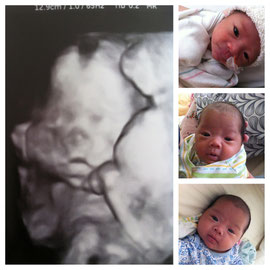 Dearest baby,
You have been in our lives for more than three months now. What a privilege it is to watch you grow and be a critical part of that process.
Many things have happened in the short period of time that it feels as though you have been in our lives for much longer than that. Let mama relive some of the important highlights with you.
First month: For one so small you seem so strong
This line from the song, You'll be in my heart describes how I feel about you, my darling. Tipping at 1.55 KG at birth, you deceptively looked fragile. As days went by, papa and mama witnessed what a strong baby you are. When I looked back at your progress in the five weeks that you were at the hospital, we are extremely proud and impressed. 
Within the first week of your birth, you were "downgraded" from NICU to Special Care Nursery because you did so well! Hurray! Each week, you hit some kind of a milestone and before we know it, you were ready for home. The time in the hospital passed by quicker than expected. While it was a very trying time for papa and mama, there were many moments of joy as we watched you overcome one hurdle after another.
Because of your prematurity you weren't able to nurse in the beginning. Thus, the highlight for mama each day was the time we spent together during skin-to-skin. Holding you close to my body was such a lovely experience and I looked forward to it everyday. I could tell that you enjoyed it too and that touched me deeply.
When you were ready to suckle, I experienced the indescribable joy of having you at my breast even though it was not spontaneous and we struggled a little at first. Still, what a sweet moment that was for me.
Unfortunately, mama's milk supply was very far from adequate for you. It was so little that you seemed frustrated when you nursed. You were already on formula and despite mama's untiring effort in establishing the supply, we had to let you continue with formula and my breastmilk became your supplement. 
We celebrated our first Lunar New Year in the hospital with papa giving a feed on the bottle. Mama couldn't do it because I was sick mostly due to  sheer exhaustion, stress and poor rest. Subsequently, I was asked to stay at home and that was so hard and I missed you so much. That was one of the important lessons in motherhood that I learned: that I need to take care of myself first before I could care for you.
Mama knew you were in great hands though as the nurses in the nursery adored you and couldn't wait to hold and cuddle you. Darling, you are irresistible!
Second month: Transition to home
The real deal happened this month and that was having you home with us 24/7. We were simultaneously delighted and apprehensive to have you home. Can we really do it on our own?
Your parents, especially papa, are great planners but for your homecoming we found ourselves scrambling to get things ready. It was a mad rush to say the least. We learned the important lesson of letting go of the perfect and just do what was sensible given the constraints.
On the eve of your discharge, the hospital offered us the option of rooming in with you. That was momentous as it was the first of the countless nights of us together. We officially said goodbye to sleeping through the night. What an experience it was as we learned that you were a noisy sleeper as most preemies are. Even in your sleep, you made noises, gurgled and chuckled. Very intriguing and confusing too! Needless to say we didn't have much sleep that night.
We were warned that some babies have difficulties transitioning from hospital to home. Thank God, you were a trooper and did swimmingly well. You seem to love being home with us and that is such a relief.
Thence, our steep learning curve as parents began as we learn on the job. You are a dream baby, ever so patient with us as we fumble along the way. Your trust and patience in us help us to be patient and trust ourselves too. Thank you, sweetheart. Within a short period of time, you settled in and began to thrive.
Right from the start I knew that there will be numerous moments where I will feel helpless and vulnerable as a mom. Here is one story that illustrates this.
To rule out Retinopathy of prematurity (ROP), we needed to have your eyes checked. Eye check is pretty easy for adults as we can follow instructions but for a baby, that's a different story. Consequently, the doctor needed to put eye speculums to keep your eyes opened so that they could be examined.
As expected, you cried your heart out. It was so heartbreaking that mama ended up crying with you. Instinctively, I wanted to take the "bad things" away from you. Yet at the same time I knew it was necessary and you had to go through it yourself. All I could do was to assure you of my presence and support you. Thankfully, you recovered quick enough. Can't say the same for your mama who continued to tear each time she saw your swollen eyes.
I am aware that similar situations will repeat itself a million times over and I need to brace myself for them. I must dare to walk into the arena with you; willilng to be vulnerable, to support and provide a role model for you. Baby, we mustn't resist pain, suffering and negative emotions. They are part of life and we are fully capable in handling them.
That was a tangible lesson for me and I knew I didn't fare well. That's okay. I am sure there will be other opportunities for me to strengthen this particular muscle. You and I are on this lifetime journey together.
Third month: You are my sunshine
My darling baby, you light up the room with your smile. You are a people baby and enjoy being surrounded by people. Even when you're tired and sleepy, you would try to keep awake to listen in to our conversations. What a polite baby you are.
Papa and mama are so grateful that we have endless suppy of you. The joy you have brought us is truly beyond words. Motherhood is surprising because I never thought I would become a mom that gushes over her baby! I have also become someone whose mood is dependent on her baby's. When you're happy, so am I. When you suffer, I suffer too.
Since birth, we noticed that you have many interesting facial expressions that increase your cuteness quotient. I remember standing by your isolette and watching you in the early days and laughed to myself.
You have your dark side as well and boy are you feisty when you don't get what you want. For now, that's milk and being left on your own to sleep. You are verbal about your displeasure and it shows on your little face. The good thing is you return to your sweet self once your goal is achieved.
Speaking of that, we can tell that you are very focussed, goal-directed and persistent. These are all very good characteristics, dear baby. We have started to do tummy time with you. Initially, you hated it and would cry. By and by you get better and even find a way to soothe yourself! It's pretty remarkable and that makes me believe that we human being appreciate challenges. Once we surmount a challenge, it gives us a great sense of achievement and satisfaction.
You have clear preferences as well. For instance, you like your milk warm and it has to be just right, not too hot or cold. You like to have at least one hand out when we swaddle you. Once in a while, you even manage to get both of your hands out from the swaddle! Your papa calls you our little Houdini. You are not fully aware of what you can do with your hands yet. At the moment, you seem to enjoy using them to smack mama's face.
Physically, you have definitely grown and that thrills us to no end. Your weight has almost tripled since birth and it's pretty visible (refer to the pictures in this post). Mama particularly loves how your face has become much chubbier. Cuteness overload!
A highlight of this month is that we did your first photoshoot. Again, you were such a trooper. Even though we messed up your schedule you were pretty cooperative (as cooperative as babies can manage). The outcome of the shoot was awesome. When I saw how gorgeous and beautiful you were during the slide presentation, tears rolled down my cheek. Ya, your mama is sappy. I imagine I'd cry buckets when you graduate or walk down the aisle. 
My dearest daughter, you must remember that we love you with all our heart and we will do everything in our power to nurture and raise you to your fullest potential. Please reveal yourself to us and teach us to be good parents to you. Be patient when we are slow to read your cues and remember that your parents are not perfect. All of us wears the L-plate in this incredible journey. Let's enjoy and savour this ride together.
Once again, thank you for giving us this opportunity to be your parents and for being the lovely you.
Love,
Mama
I read a book recently that expresses a sentiment of mine. It says, "to re-create something in words is like being alive twice." How true.
These letters are written for my daughter to read some day. At the same time, it also allows me to share my thoughts with others, something that I love to do. I am very grateful for the positive response that I have received from the birth story that I wrote. Thank you very much for the encouragement and kind words. Thank you also for reading.
Related Posts: