Anytime Resolution - As the name suggests, it is a resolution that can be taken up anytime when you feel the need and are ready for a change. I hope to provide you with some useful suggestions that will bring you closer to living a more flourishing life in various aspects.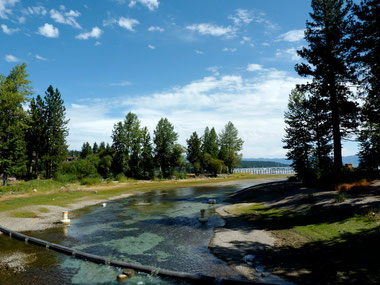 Today's Anytime Resolution is choose to spend time outdoor and in nature whenever possible.
Growing up I was hardly an outdoor person and it was not something that was highly encouraged in my family.
The conversion happened when we relocated to the Bay Area where I was completely blown away by the feelings that were evoked in me whenever I am in nature.
Stillness, awe, curiosity, and serenity are the usual candidates. The sense of well-being courses through my body and I feel relaxed, rejuvenated and ready to face the challenges of daily living once more. Since the transformation, walking and hiking have become my favourite leisure and stress-reducing activities. We wholeheartedly concur that the National Parks is America's best idea.
An interesting article on Our Nature-Deficit Disorder strengthens my resolve to spend more time in nature. Children should be encouraged to be in nature where their natural sense of curiousity and playfulness can be harnessed and cultivated. The elderly will benefit from a leisurely walk in the park or garden. Stressed-out and overworked parents, employers and employees, more than ever need to consciously chooose to spend time in nature to regain equilibrium and perspective. 
The following is a compilation of the benefits of spending time in nature:
Makes us feel more alive and present.
It is an effective pathway to good health.
People are more caring and generous when they are exposed to nature.
Eases your mental fatigue.
Restores our attention by giving us something novel to explore.
Bestows a sense of connectedness, meaning and purpose.
An effective stress-reducing activity.
Provides a springboard for discovering numerious life lessons. 
Natural spaces stimulate children's imaginations, creativity and build confidence. 
Are you convinced yet? Incidentally, a good friend of mine took her family for a spot of nature recently. Check out the fun and adventure they experienced.
Those of you who are already spending considerable amount of time in nature, I like to invite you to share your experience. Nature lovers, let's unite and spread the words on the wonderful benefits of spending time in nature. Click like and share the post!
Suggested readings: Spending time in nature makes people makes people feel more alive, study shows, Why nature is therapeutic, and Spending time in nature:The secret to Health?
Related posts: