Anytime Resolution - As the name suggests, it is a resolution that can be taken up anytime when you feel the need and are ready for a change. I hope to provide you with some useful suggestions that will bring you closer to living a more flourishing life in various aspects.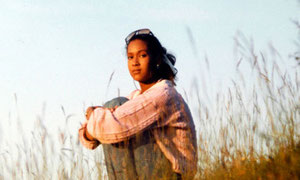 Today's Anytime Resolution is to contact the friend whom you haven't been in touch with without delay.
The inspiration for this resolution comes from a poignant and powerful documentary that I watched at the recent South by Southwest (SXSW) Film Festival in Austin.
Imagine this.
One ordinary day you receive a call about a friend whom you have not been in touch with for a while and you are told that she was found dead in her apartment for nearly three years. What is your immediate reaction?
Disbelief? Yes, that would be my reaction too. How is it possible especially in this age where almost everyone is highly connected to one another through various social media?
Yet something like that did happen in 2006 to Joyce Vincent, the woman in the picture whose body was found in her North London flat. How could this 38-year-old attractive woman lie dead and undiscovered for almost 3 years? This question motivated film-maker, Carol Morley to investigate the mystery and directed a film entitled Dreams of a Life.
Interweaving interviews of Vincent's friends and associates with imagined scenes from her life, this beautiful film is simultaneously imaginative and powerful. Undoubtedly, it is a brilliant and commendable effort by Carol Morley who wanted to honour Vincent and not leave her and her story to be forgotten.
Today, there are so many channels where we can get connected with our friends so conveniently that it is inconceivable that something like this will happen. Therein lies the danger. The illusion of connectivity makes it all the more likely that we take our friends for granted.
In the film, many of Vincent's friends admitted that they thought of her constantly but due to life circumstances and busyness they did not contact her. They had just assumed that she was fine and were filled with regrets upon learning about her death.
The greatest lesson that I take away from this film is that I need to be proactive and cherish my friends. When I think of them or miss any of them, I need to translate it into actions. Pick up that phone or send a message on Facebook, WhatsApp etc. I need to tell them that they matter, before it is too late.
Enjoy the trailer and if you have the chance, please watch the film.
Care to share you reactions and/or thoughts on this post? Feel free to share them in the comment. I look forward to hearing your views. Thank you.
Related posts: